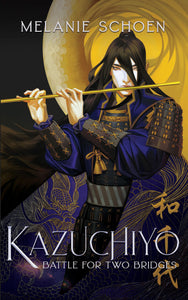 KAZUCHIYO: Battle for Two Bridges
At the final, rain-drenched battle of Shimegahara, the renowned samurai known as The Red Dragon falls to his bitter enemy, Lord Aritaka. With his clan plunged into disarray, his eldest remaining son, Kazuchiyo, is captured and forcibly adopted by the enemy. Raised in an unfamiliar land, surrounded by schemers and mystics, Kazuchiyo teaches himself the arts of politics and war, determined to one day get revenge and return to his homeland. In this, he is aided by two men who will stir his heart: Yagi-douji, a young warrior of incredible strength; and Amai, a clever and mysterious shinobi. Together they are cast again into bloody war, forcing Kazuchiyo to choose whether to side with his abductors in order to move closer to his revenge.
Battle for Two Bridges is the first book of the KAZUCHIYO series, a samurai drama full of warfare, intrigue, magic, and romance.