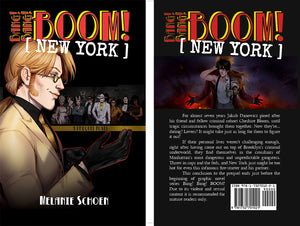 Bang! Bang! BOOM! [NEW YORK] Vol 2 DIGITAL
For almost seven years Jakub Danowicz pined after his friend and fellow criminal cohort Cheshire Bloom, until tragic circumstances brought them together. Now they're...dating? Lovers? It might take just as long for them to figure it out!
If their personal lives weren't challenging enough, right after having come out on top of Brooklyn's criminal underworld, they find themselves in the crosshairs of Manhattan's most dangerous and unpredictable gangsters. Throw in cops and the feds, and New York just might be too hot for even this infamous fire-starter and his partner.

This conclusion to the prequel ends just before the beginning of graphic novel series Bang! Bang! BOOM! Due to its violent and sexual content it is recommended for mature readers only.